Implementing Azure OpenAI into LearnGo, an e-Learning Platform.
The revolution of Artificial Intelligence cannot be stopped, and you may be wondering how to leverage its powerful capabilities. One example could be the implementation of Azure OpenAI (ChatGPT) as an assistant for generating substantive content and providing intelligent suggestions in your application. This is a significant benefit for users, as AI becomes their trusted companion, enhancing productivity while saving time and effort.
If you don't want to passively watch the AIrevolution and are looking for an idea on how to use its broad spectrum of possibilities in your application, we have a fascinating solution for you. Read the article to find out how thanks to the integration of the ChatGPT API we improved the LearnGO training platform.
LearnGo: A Modern AI-Powered Learning Management System
LearnGo is an LMS (Learning Management System) dedicated to organizations that prioritize fast and effective improvement of their employees' qualifications. It enables course creation and efficient management. To facilitate the work of training creators, we integrated LearnGO with Azure OpenAI. Thanks to this integration, we gained access to advanced content generation capabilities, allowing us to build course structures along with descriptions for each section and appropriate tags to help learners find content of their interest easily. Implementing Azure OpenAI and the GPT-3.5 Turbo model has enabled LearnGO to deliver personalized courses tailored to individual creators' needs in just 3 minutes. Azure OpenAI turns LearnGo into an innovative educational tool that streamlines the course creation process.
How ChatGPT Works in LearnGo.
The implementation of the AI Assistant in the training platform helps:
Create course names and descriptions,
Generate appropriate tags,
Build the entire training plan divided into sections and modules.
The use of the AI Assistant is optional at every stage of course creation. The suggestions and content provided by the artificial intelligence algorithms can be freely modified, removed, or requested to be regenerated. Thus, the AI Assistant does not impose its solutions but acts as an advisor. The final word always belongs to the course creator.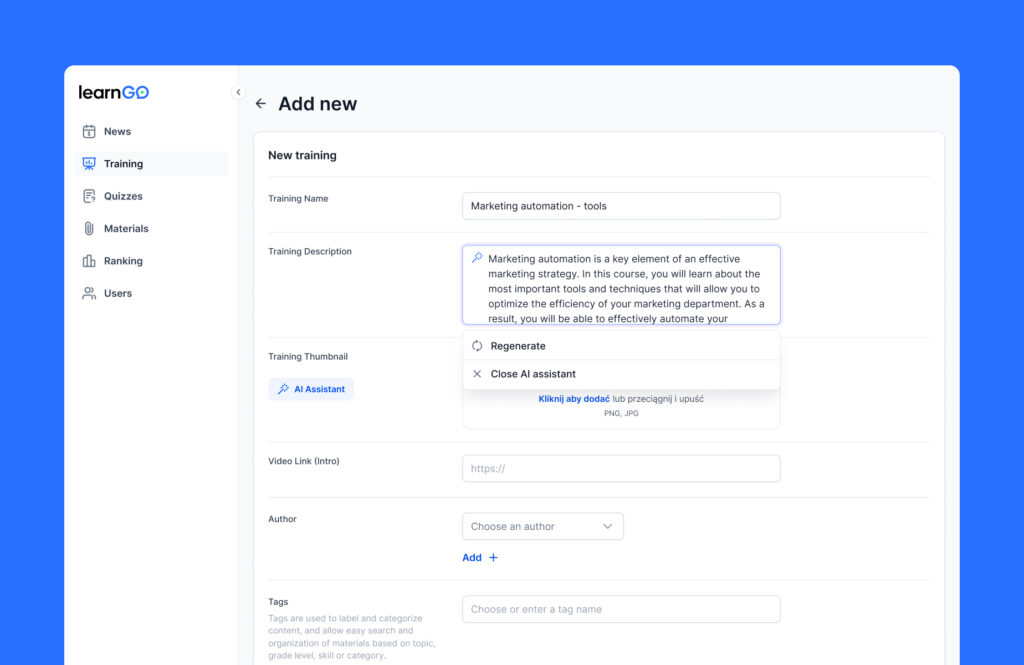 Step 1: Creating the course name and description
When asking the AI Assistant for help at the stage of creating the name of the course, the user only needs to enter keywords related to the topic. The course title will be generated automatically. The AI Assistant can also create descriptions. Artificial intelligence algorithms analyze the course subjects based on its title, recognize key areas of the topic, and generate appropriate descriptions. Thanks to this, the training creator can avoid the need to manually describe its content, saving a significant amount of time and effort.
Step 2: Generating tags with the help of artificial intelligence
Tagging is an incredibly useful functionality. In the case of a training platform, tags help with categorization, personalization, and searching. They allow learners to find materials of interest in a much simpler and more intuitive way, as well as discover other courses on related topics. With tags, it's easy to encourage users to explore the platform further and continue their development.
The AI Assistant in LearnGO swiftly creates relevant tags based on the keywords included in the course title and description. The user can add their own or modify suggestions provided by artificial intelligence. Instant tag creation is pure pleasure for the course creator.
Step 3: Comprehensive course structure creation
The AI Assistant allows the training creator to instantly generate course sections and modules, saving a lot of work. Instead of spending hours devising a training plan, the entire structure can be generated within seconds. As a result, instead of hours spent on coming up with a training plan, you can have the whole thing ready in a few seconds. The course template can be personalized to meet the individual needs of the organization by adding or removing sections and modules.
The result of implementing Azure OpenAI in the LearnGo platform:
What previously took several hours can now be accomplished in just a few minutes. The integration of LearnGO with ChatGPT results in significant time savings and support for those who need assistance or inspiration during the first steps of course creation. With the help of artificial intelligence, anyone can become an e-learning expert and create their own courses.
AI has firmly established itself in our current reality, making our tasks less laborious. If you have a digital product, you certainly know that users are eager to return to solutions that do not require unnecessary effort and save their time. The use of artificial intelligence in all kinds of applications is no longer an option, but a pressing need.