React Outsourcing Services
Hungry for some well-structured interfaces? Better get along with React!



About service
Build a strong team with our specialists
We understand the importance of delivering fast, responsive, and user-friendly web applications and websites – they help our clients stand out in the crowded digital marketplace. That's why we offer React outsourcing services that leverage the latest tools, technologies, and best practices to help you build custom solutions that meet your unique business needs.
That's why, if you're looking for a reliable and experienced partner to help you build world-class web applications with React, look no further than our software house. Contact us today to learn more about our React outsourcing services and how we can help you take your business to new heights!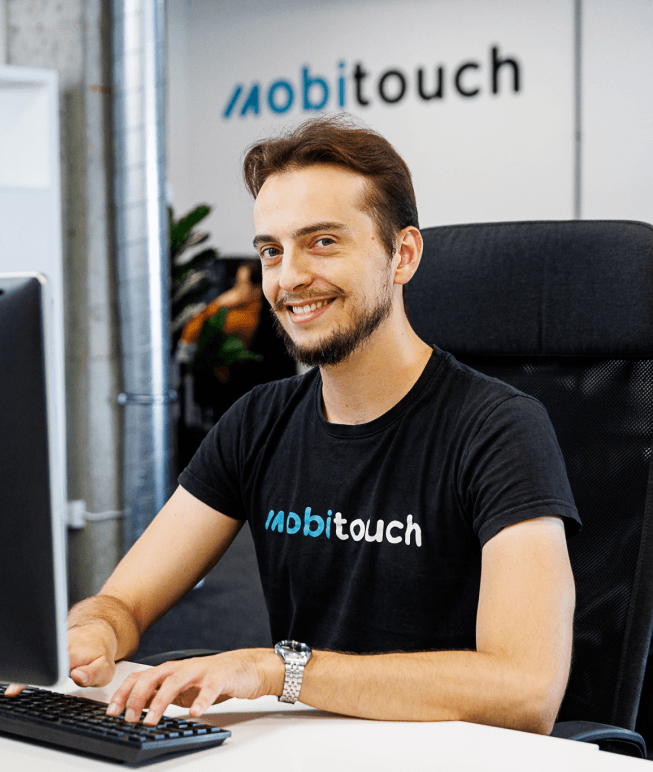 Why choose React outsourcing services
The right technology, the right people
Are you looking for a powerful tool to build scalable and responsive web applications? React is the right choice. With its extensive library of reusable components and intuitive syntax, React allows developers to build high-quality, interactive UIs that can be easily customized to meet the unique needs of any business. And by outsourcing React development, you can access a team of experienced developers who can help you achieve your goals and deliver exceptional user experiences that drive growth and success.
So, if you want to take your business to the next level, select our React developers today!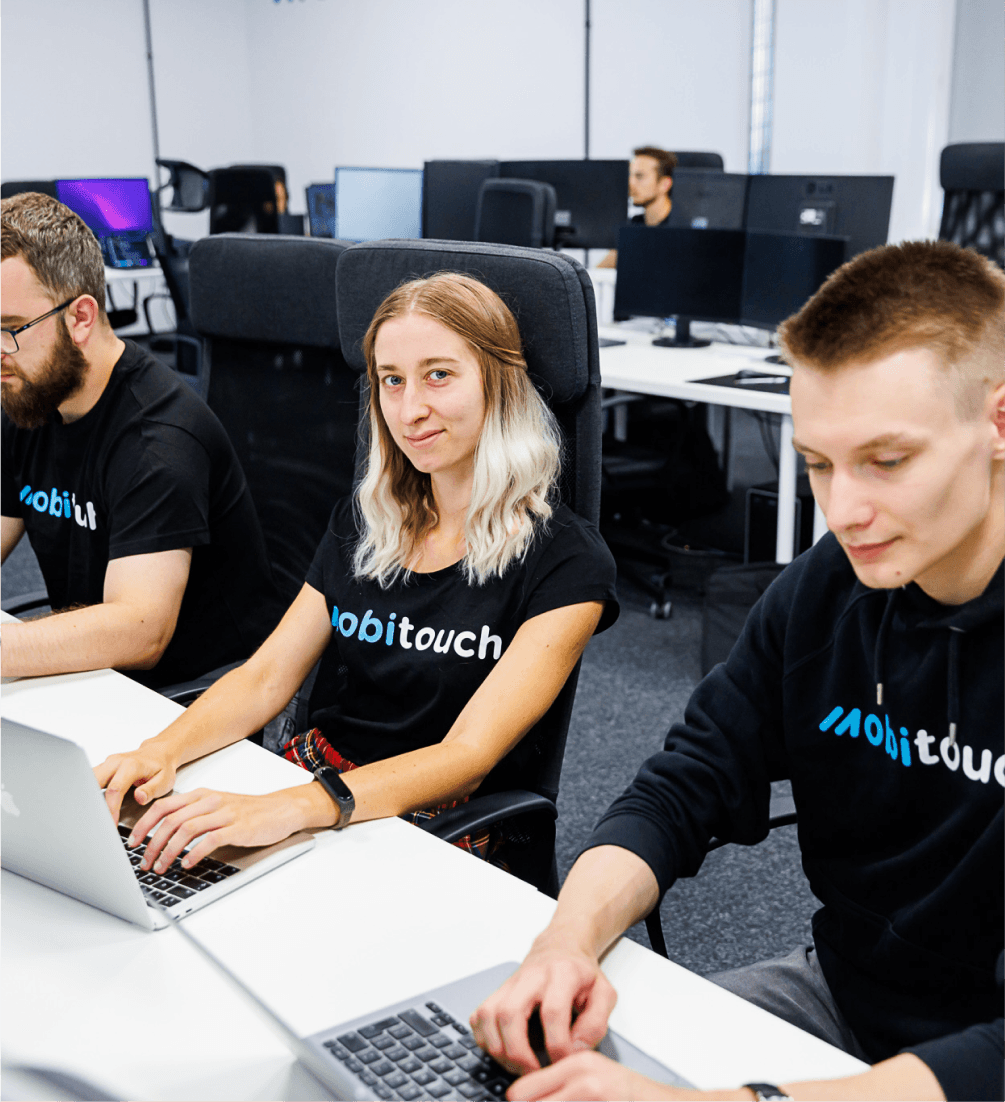 Examples of usage
When to use React?
Web apps
Take advantage of reusable components and intuitive syntax to create a fast, responsive, and dynamic user interface.
PWA apps
User-friendly experience, efficiency and the ability to use native smartphone functions - these are the possibilities of React when creating applications in a handy mobile format as a Progressive Web App.
E-commerce
React is a good choice for e-commerce because it allows you to create functionalities tailored to the individual needs of your customers. It is also compatible with many other tools and libraries, which enables integration with various e-commerce platforms and online payment methods.
What exactly is React?
A few words about the technology
About React.js
React is a popular JavaScript library used for building dynamic user interfaces. It's designed for developing complex applications that require high performance and fast UI rendering. React works with self-contained components that incorporate both HTML element structure definition and JavaScript functionality. Developers can create, combine and update components to create more complex and interactive UIs. Moreover, each element can be reused multiple times in different places in the application, allowing for easy management and modification of the user interface. With React JS outsourcing services, your company can access a team of skilled developers who will create fast, responsive, and interactive UIs that enhance the user experience. For that reason, you can easily and very quickly benefit from the expertise of experienced developers to gain a competitive edge in the marketplace.
Thanks to the knowledge of our experienced developers you can solve problems such as:
low application performance and scalability,
complex information architecture,
difficulty making changes,
lack of customization and tailor-made solutions,
inability to reuse components.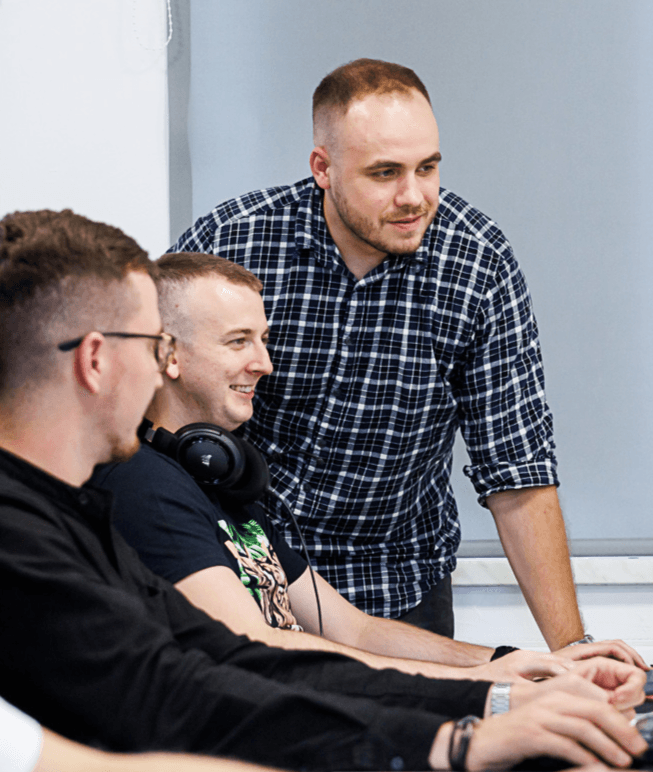 React developers from mobitouch
Would you like to receive a sample CV of our developers?
Collaboration process
What our cooperation will look like
Let us help to identify your needs
01
Send us a description of the implemented project and specify what programming services you need from the outsourcing provider. In the description, also indicate what technology you currently use or what you want to use (e.g. .NET, Flutter).
We will find the perfect candidate for your project
02
After reviewing your project, we will send you blind CVs of potential candidates, hourly rates, and their availability.
Tech call with the candidate
03
Need to make sure that the candidate will fit your project and organization? Or maybe you want to check his competencies? No problem, we'll set you up for an interview.
Agreeing on the final terms of the contract
04
Have you decided to cooperate with our expert? Great, now we will send you the final contract including the project scope and timeline, quality standards, and payment terms.
Our specialist is ready to start working with your team. We will keep in touch with you to make sure everything is okay, hoping for feedback.
Get an edge on the market
Benefits of working together
Specialist available immediately
No need for a lengthy recruitment and onboarding process.
Time flexibility
You hire programmers for any period – as long as you need to finish the project.
HR matters on our side
No worries about employee holidays or paperwork. You maintain continuity of work.
Financial savings
You manage the developer's work and pay for real working time.
Collaboration proposals
What type of software development outsourcing do you choose?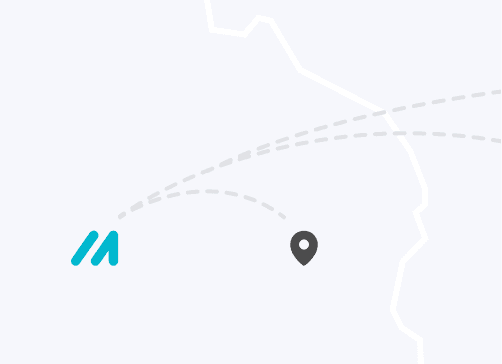 Onshoring
In this case, collaboration takes place between entities in the same country. It is often used by companies that have no need for an in-house IT team or have limited access to developers in their location.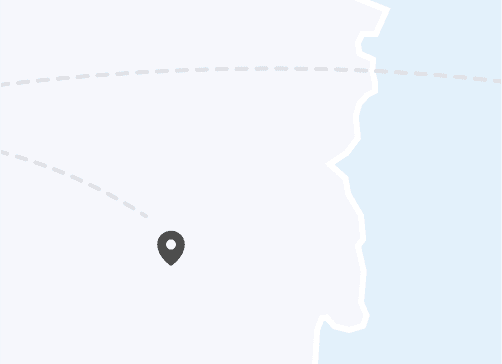 Nearshoring
If you can't afford to work with a company from a distant country (for example, because of the time difference), it's worth opting for nearshoring. In this case, companies from countries close to each other enter into a partnership. This helps maintain better understanding and smooth communication. The outsourcing company is also familiar with the market and legal conditions in the area.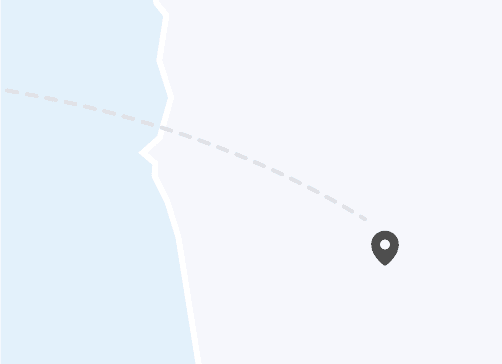 Offshoring
This type of cooperation involves hiring specialists from a company located in another part of the world. Its advantage is unlimited access to talent from all fields of programming. Offshore software development also allows you to get the most beneficial pricing terms.
How we are perceived
The team of experts at mobitouch has the skills and know-how to implement the most demanding projects. Moreover, they have in-depth knowledge of the latest technology trends and know how to apply them creatively to build high-performing products.

At every stage of implementation, we knew that we could count on the support and knowledge of professionals. Thanks to the well-designed UX and UI, as well as the use of the latest technologies, Opensport24 definitely outperforms competitive solutions.

We are very pleased with their professionalism and vast knowledge of technology.
Cross services
We believe that good design and development are the ones that work best on all devices and every resolution
Would you like to receive a blind CV?
It's a good time to meet your future React developers