Careers
Are you looking for a challenging job?
Welcome! You're in the right place.
Get on board!
OPEN POSITIONS
Do what you do best





Show us what you've got
Didn't find anything that matches your experience? Maybe you have some skills which we should consider having in our team?
OUR CULTURE
Work-life balance first. Everything else after.
We were born to write high-quality software every day.
But except for that fact…
We are also humans and friends. All of us have individual needs. As an employer, we are doing our best to create a suitable environment for a sense of growth and feeling stable. So, if you want to work with professionals who treat customers and employees with respect, your job is waiting right here. We can't wait to get to know you!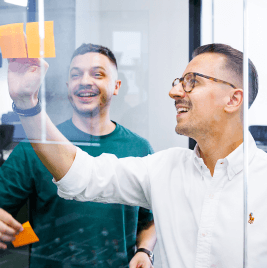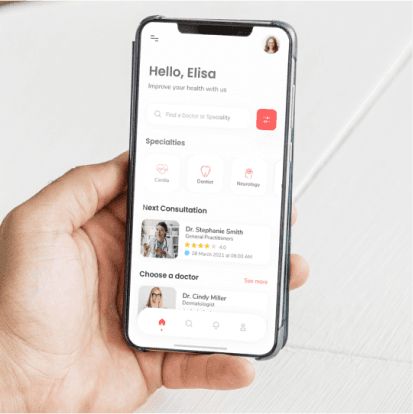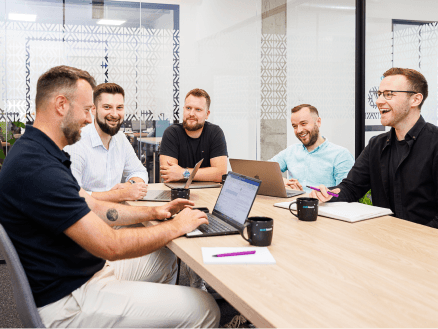 OUR VALUES
This is the code we follow
Trust within the team
All the cards are on the table. We discuss objections and treat each other fairly.
Work-life balance
We believe that a satisfied employee performs better than a burnt-out one. We aim to limit the impact of work on private life.
Learning and development
We enjoy sharing knowledge among the team members and encourage them to do the same.
Team spirit
We must be on the same page. Together we can achieve more.
WHAT DOES IT MEAN TO WORK WITH US?
Perks & benefits to be expected
Code review

You have the support of the entire crew

Remote work

Possibility of home office work

Flexible hours

Start and finish at a convenient time

Mobi devs skillz

Knowledge upgrade meetings

Parties

Informal team-building events

High-end stuff

Modern work tools

Massage vouchers

We care about relaxation

English lessons

Free language courses

Multisport & Opensport24

Build your fitness using multiple sports facilities

Chillout room

Space to refresh your brain and boost your creativity

Referral program

Bonus for recommendations

Be a part of our blog

Creating an expert image

New office

Convenient and modern workspace

No dress codes

Chilled out atmosphere

International projects

Work for foreign clients

Feedback

Regular feedback meetings

Real values

Work for a responsible organization
International projects gave me priceless experience, but I don't feel like I'm working for a big corporation.

I joined mobitouch while I was still at college because I was doing an mLAB internship here. It was the best decision of my professional career. I got a great boost of experience in a very short time.

What I appreciate the most is the human approach to each employee. Constant pressure and stress cause a lack of desire to work - there is none of that here.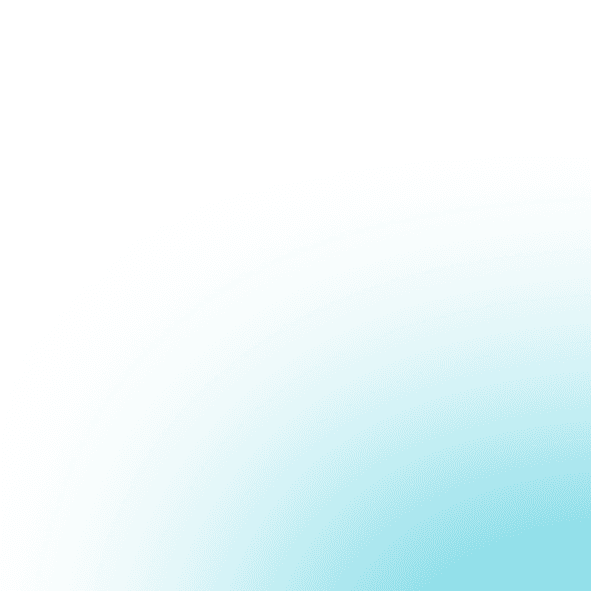 Crew
Together we are mobitouch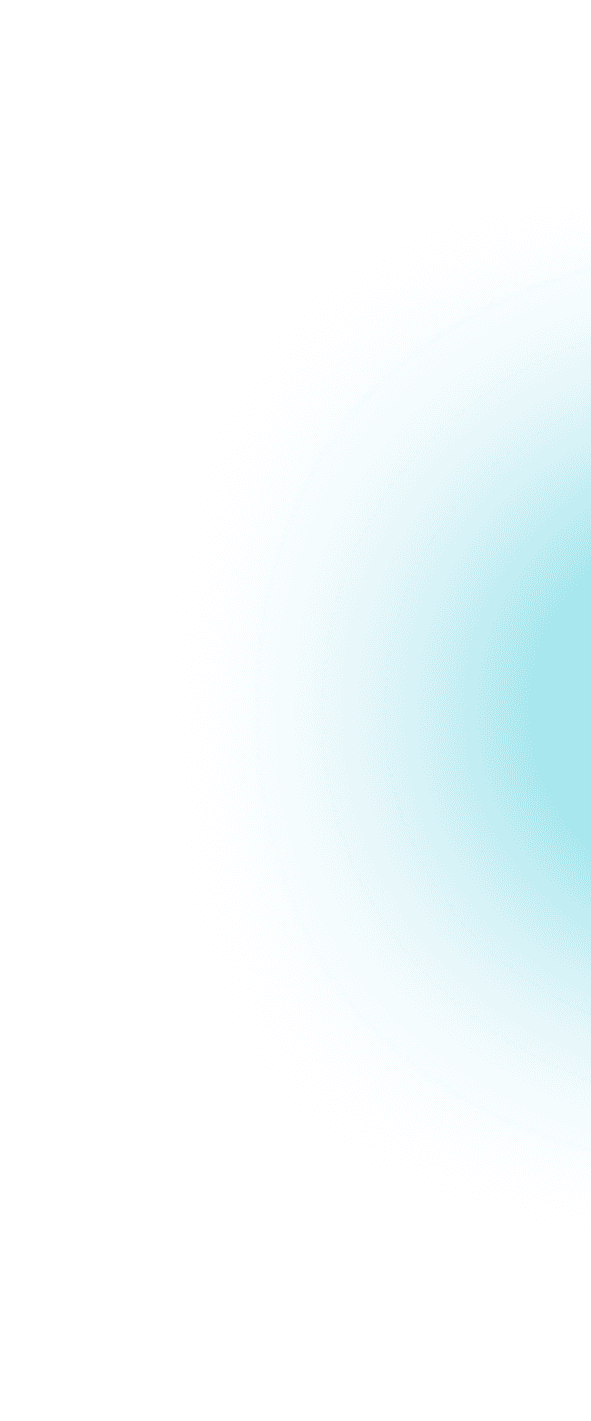 RECRUITMENT PROCESS
3 steps to join one of the best software houses in Rzeszow.
See how our recruitment process works. It will help us both to decide if we fit together.
01
Apply to mobitouch!
Are you interested in one of our positions? Send your CV via the application form or by email to join@mobitouch.net.
We will analyze your experience, education, and skills and come back with feedback within a maximum of 3 working days. If your profile is suitable for the applied position, we will happily invite you for an interview!
02
Let's get to know each other!
The next step will be a technical interview where we will discuss your skills and experience. This stage proceeds remotely. If it goes smoothly, we will invite you to a meeting at our office.
We will talk about your expectations and awaiting projects and will be happy to answer any questions. We will both have an opportunity to get to know each other better.
03
Welcome on board!
If you are the candidate we have been looking for, we will get back to you with a personalized offer. Soon, you will be able to join the mobitouch team!
Haven't you received a job offer from us? Nothing to worry about! We are aware of our candidates, so we will keep your application for future recruitment. Who knows, maybe we'll be able to collaborate in no time.
NEED SOME ANSWERS?
Frequently Asked Quesions
How can I apply to mobitouch?
You can apply via the application form on this website. All you have to do is click on the offer that interests you and you can apply! Also, you can contact us via email at join@mobitouch.net.
What does the recruitment process look like?
If we feel that your profile fits the position, we will invite you for a short technical call. If this goes well, the next step is an office interview. We will discuss your expectations for the new job, and future projects and answer any questions. If your participation in the recruitment process turns out successful, we will offer you a career in the mobitouch team!
Will I be informed if I am not qualified in a justified way?
Those who apply to mobitouch will receive an email from our recruitment team within 3 working days. In the case of a negative response to the application, we send the reasoning behind it. If the answer is positive, we will jointly set a date for a recruitment interview.
How long will I wait for the outcome of the interview?
Candidates involved in the recruitment process will receive feedback within 3 working days. The Recruitment Department will inform all applicants if the recruitment process is prolonged.
Is it worth sending a CV if there are no available positions?
Of course, it is worth it. Your CV will go into our internal candidate database, which we will use for future recruitment processes. If we are recruiting for a position that matches your qualifications, our recruiter will contact you about a job offer.
Is it possible to do an internship at mobitouch?
Yes, it is possible. Mobitouch runs the mLAB internship program. It is dedicated to university students with a computer science profile and technical secondary school students with programming and design-related profiles. People who learn programming independently are also welcome to join mLab.
What forms of contract do I have to choose from?
All candidates can choose between a contract of employment and a B2B contract. You decide which form is more suitable for you.
What does onboarding look like?
From the first days at mobitouch, the new employee will be guided by a mentor, or so-called 'Buddy'. He will be one of the closest teammates explaining procedures and giving suggestions. What's more, the new employee receives a welcome kit which includes a sweatshirt, t-shirt, mug, and much more!
Can I decide what time I start work?
Yep, at mobitouch we have flexible working hours!
What work tools will I receive?
We provide a comfortable and ergonomic workstation for each employee. You will also receive high-quality work tools and access to the necessary programs.
Is it possible to work fully remotely?
We prefer hybrid working, as we are keen to build good relationships between employees to provide the opportunity to share experiences with each other. Our office is well-equipped with a fully stocked kitchen, team meeting areas, and a chill zone with an Xbox console and table football. Completely remote working is only possible for selected positions.
Would you like to ask something else?
Let's get in touch!