Radio applications have become an integral part of our daily lives. More and more people are seeking opportunities to consume music, listen to radio stations and podcasts anywhere and anytime. To meet these demands, creating a mobile application has become essential for every radio station. A mobile app opens up many new possibilities and allows reaching a broader audience. To ensure the best listening experience and satisfy users, choosing the right technology is crucial.
In this article, we will show why Flutter technology is the best choice for creating a mobile radio application.
Cross-platform, speed and performance
There are many frameworks and tools for building mobile applications. Due to its cross-platform properties, Flutter, developed by Google is gaining immense popularity. It enables rapid development of efficient and responsive apps for both Android and iOS from a single codebase. The application is user-friendly and operates smoothly, eliminating the need to create separate versions for iOS and Android systems. In practice, this means that the radio can reach a larger number of listeners, regardless of the mobile devices of the user. It is, therefore, an extremely attractive solution that optimizes costs and shortens the investment time.
"Radio applications often require smooth audio streaming and handling large amounts of data. With Flutter technology, developers can provide users with fast loading and smooth app performance, regardless of the device platform," says Marcin Bąk, Project Manager at mobitouch.
Rich set of ready-to-use components
Thanks to the Material Design system, Flutter technology allows developers to utilize a ready-made base of the latest components and enhancements. Developers can flexibly customize the appearance and style of components to meet the unique needs of each application. The system allows for color modification, typography adjustments, and transition effects, giving each app a unique look while maintaining consistency with Material Design guidelines.
Active flutter developer community
There are many available libraries, tools, and extensions that facilitate the process of creating mobile applications in Flutter. Due to the technology's increasing popularity, the number of developers specializing in Flutter is constantly growing. It is worth noting that Flutter has a well-developed and engaged community of developers who support each other in their endeavors.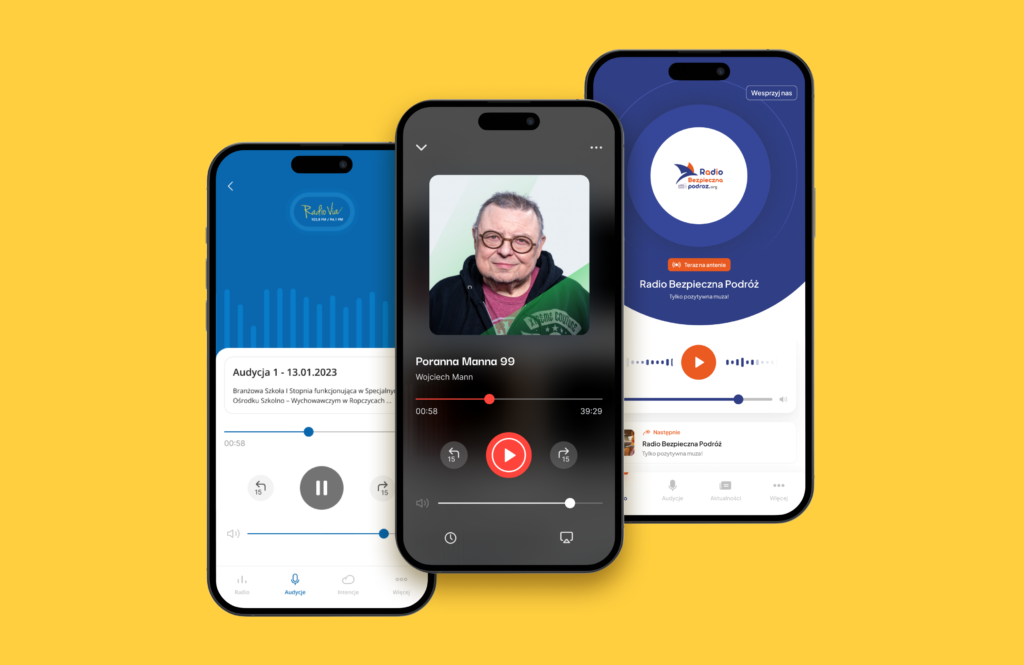 Why Flutter?
A mobile app built with Flutter technology can make use of REST APIs, enabling efficient and fast data retrieval from various sources, such as radio programs or song lists. To automate the process of building and testing applications, we implement a CI/CD tool called Codemagic. It allows for quick and convenient app publication on various platforms. For better user data management, activity tracking, and data analysis, we use the Google Firebase platform. It enables us to implement functionalities such as social media log-in, push notification support, and more.
Advantages of a mobile radio application created with Flutter technology
There are several key benefits to having your own radio application developed with the use of Flutter:
Greater listener loyalty
Providing personalized content and unique experiences through a radio app can build a strong bond with listeners. Personalization allows delivering content that precisely matches listeners' tastes and preferences, resulting in increased loyalty and engagement.
Reaching new audiences
Having a mobile app makes you accessible to a much broader audience. Listeners can enjoy shows and podcasts on their smartphones, no matter where they are. Features like Apple Carplay and Android Auto offer additional opportunities to reach new listeners and expand the community to users who listen to radio or music shows in their vehicles.
Revenue generation
A radio app offers possibilities to generate revenue through subscriptions, advertising, or business partnerships.
Interaction and community engagement
A mobile app allows you to analyze user behavior and their interaction through social media. It enables us to have a deeper understanding of users' needs and preferences, which can lead to improving content and programs, increasing the number of listeners, as well as the effectiveness of marketing and sales efforts.
A mobile app created with Flutter is an ideal tool for radio stations aiming to achieve widespread popularity and provide its listeners with exceptional experiences.
Take care of your radio's development and stay up-to-date with the changing needs of your listeners. Contact us to learn more about mobile applications. We have already had many successful collaborations that resulted in fantastic apps achieving enormous success in the market.