In the era of advancing digitization, mobile applications play a crucial role in all aspects of our lives. The radio industry is no exception, with radio applications gaining increasing popularity among listeners. Creating a dedicated mobile app for a radio station is not only a marketing trend but, above all, a strategic step that translates into success in this industry. Moreover, utilizing advanced technologies, such as Flutter, provides innovative solutions that maximize the potential of the application.
In order to provide users with the best quality and convenience of use, such an application needs to offer several key functionalities. Our development team at mobitouch had the pleasure of implementing a dedicated application project for Radio Nowy Świat, one of the most popular radio stations in Poland. Continue reading the article to learn about the innovative solutions and technologies used in this project.
What distinguishes Radio Nowy Świat?
Since its launch in 2020, Radio Nowy Świat has been offering its listeners ambitious and valuable music and journalistic content. The leadership at Radio Nowy Świat is in the hands of music journalists such as the radio legend, Wojciech Mann. It is thanks to their passion and dedication that the radio stands out with a unique approach to content, intriguing broadcasts, and valuable programs.
In addition to its captivating content, Radio Nowy Świat has created the Patron's Zone – an exclusive space for its supporting community. There you can find exclusive offers and benefits that are only available to people who support the development of the radio. The members receive access to a special forum where they can actively engage in discussions with other listeners. They also have the opportunity to participate in closed events such as meetings with creators, workshops, or concerts. Additionally, as Patrons, they gain early access to new shows and exclusive content.
Guided by the principle that "the audience comes first", Radio Nowy Świat has achieved incredible growth and financial results. The radio has 34,019 patrons and has gained a monthly support amount of over 150,000 euro (data as of May 12, 2023, https://patronite.pl/radionowyswiat)
A mobile application for more than just listening to the radio
To create a radio application that meets user expectations, it's worth understanding listeners' opinions on desired functionalities. Sources of such knowledge include social media, Facebook groups, reviews on the App Store and Google Play, as well as surveys conducted by the radio station itself. It was the opinions of the listeners that allowed us to design a mobile application that addresses their current needs.
During the implementation of this project, the mobitouch team aimed to create a radio application that combines modern design with intuitive usage. The focus was on an interface that provides simple navigation and convenient use of the functionalities. The application allows users to easily browse through available radio programs, add them to their favorites, and discover new authors and their podcasts.
"We focused on implementing a range of functionalities that meet the current expectations of users, enabling them to easily access their favorite podcasts, conveniently use CarPlay and Android Audio features, and enjoy high-quality streaming" said Marcin Bąk, Project Manager at mobitouch, directly involved in the creation of the application.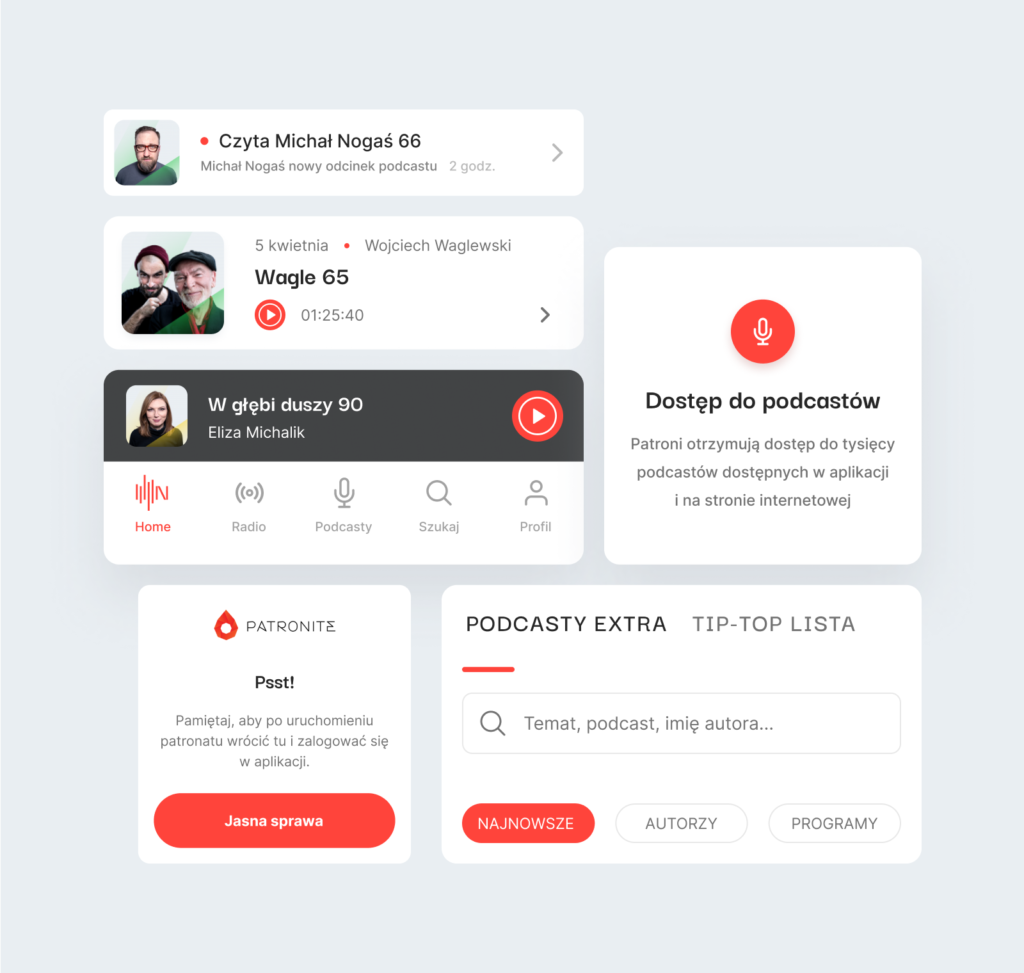 Which features of the Radio Nowy Świat application are the most popular?
Podcasts
Incorporating podcasts into the radio's mobile application has opened up entirely new possibilities for users and increased the application's attractiveness. With this feature, users can enjoy their favorite programs at any time of the day or night, regardless of the radio schedule. It provides an additional source of interesting content and an incentive for new people who are looking for places with intriguing broadcasts.
Podcasts in the Radio Nowy Świat radio application contribute to the platform's growth as a space for professional creators. They can reach a wider public and build a loyal audience, by attracting new listeners interested in valuable content.
Adding such a functionality is a step forward that transforms a traditional radio into an interactive entertainment platform, giving users the freedom to choose and have full control over the content they want to listen to. Creating a personalized list of favorite episodes and access to archived broadcasts are additional features that enhance the convenience of using the radio app.
Integration with CarPlay and Android Auto
One of the key advantages of the application is the ability to integrate with Apple CarPlay and Android Auto. This option allows users to enjoy their favorite podcasts in a safe and convenient manner, both as drivers and passengers. It makes the application even more accessible and user-friendly, opening up new possibilities to reach a larger number of listeners when they spend time in their vehicles.
In the case of the Radio Nowy Świat mobile application, the priority in designing the interface was its intuitiveness, enabling the control by voice as well as using the car's screen. This maximizes the user's comfort and enhances the overall experience of listening to the radio and podcasts while driving.
Why choose Flutter?
Let's not forget about the exceptional advantages of Flutter for app development, which we chose for our Client. Thanks to using this framework, it's not only easy to use and responsive but also works smoothly on various mobile platforms, eliminating the need to create separate versions for iOS and Android systems. That's why Flutter app development cost is lower than the native approach.
"This project is yet another confirmation of the effectiveness of Flutter technology, which provided us with rapid deployment, excellent performance, and the ability to customize the interface to the specific needs of the radio listeners community" said Marcin Bąk, Project Manager at mobitouch.
These were one of the factors that contributed to Radio Nowy Świat's mobile application receiving a nomination in the prestigious Mobile Trends Awards competition just a few months after its release.
If you want to join the ranks of the most popular radio stations and reach new audiences, discover the potential of Flutter cross platform technology. Be there for your users' needs and create a dedicated mobile application for your radio.