Do you want to build a mobile or web application? Are you afraid that developers won't understand your vision? Do you want to test your idea with your target group before even a single line of code is created? If the answer to at least one of these questions is yes, it means that you need a UX/UI designer.
Read on to find out more about:
What UX/UI means
Typical tasks of a UX/UI designer
The first step in cooperation with a UX/UI designer
Information the designer will need before workshops
Why you need UX/UI workshops when you know perfectly well how your app should work
The role of a UX/UI designer at the development stage
What UX/UI means
UX (User Experience) and UI (User Interface) are terms used in design and technology. UX refers to how a person feels when they interact with a product or website, focusing on ease of use and overall satisfaction. UI, on the other hand, refers to the visual elements and layout that users interact with directly, such as buttons, menus, and icons, to make the overall user experience more intuitive and visually appealing.
Typical tasks of a UX/UI designer
In a typical app development project, the main tasks of a UX/UI designer include:
conducting Product Discovery workshops
creating low-fidelity mockups
creating high-fidelity mockups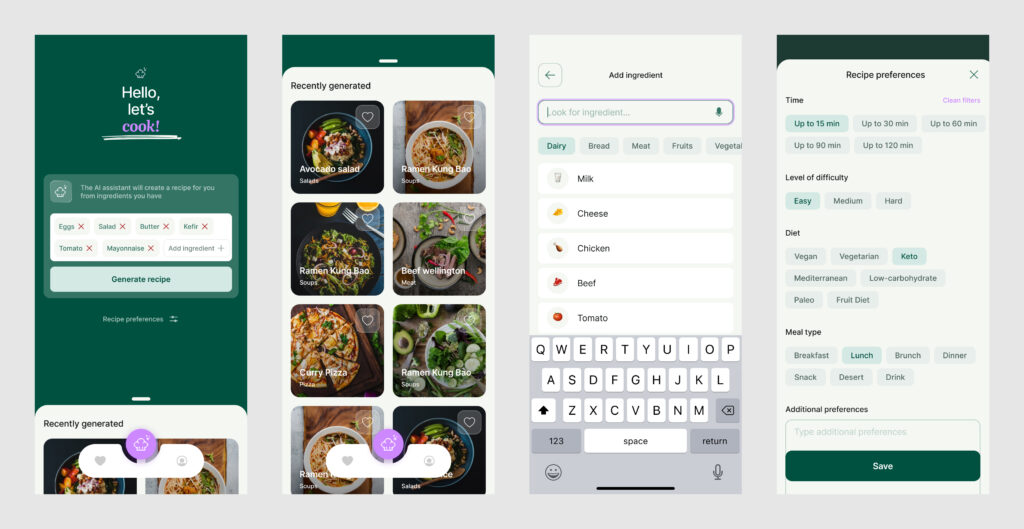 Product Discovery workshops as the first step in cooperation with a UX/UI designer
If you don't have any design documentation for the application you're planning to create, the first stage of cooperation with a UX/UI designer will be Product Discovery workshops. These include several steps, depending on the size of the project. They usually consist of a series of meetings, after which the designer creates visual documentation of the application in the form of:
Information Architecture – a detailed map of application functionalities that shows all possible user actions. It also demonstrates how users will discover and use specific features
UX wireframes – low-fidelity mockups of the most important screens of the application, without the target graphic layer.
UI mockups – high-fidelity mockups, i.e. the final appearance of the application
Component libraries that help the development team consistently implement interface elements
It is worth noting that the creation of the documentation is the result of a collaborative effort between both the designer and yourself. Therefore, the UX/UI designer acts as an active advisor. Their design work is always subject to consultation with you. During this process, the UX/UI specialist leverages their own knowledge, market analysis, and usability patterns. Usability patterns are existing solutions or user interface elements that have proven successful in similar applications.
Additionally, a UX/UI specialist can create a clickable prototype of the application. This allows you not only to see how it will look when finished, but also carefully trace the path followed by a user who wants to use particular functionalities. This option is beneficial when you want to test the application with users at a very early stage (when not a single line of code has been written yet) or when you need to present the operation of the application to potential investors.
The visual documentation created by the designer is complemented by its functional counterpart in the form of user stories. These are created by a Business Analyst. User stories are a description of the application's functionality from the user's point of view in a simple form according to the following pattern: As <user> I want to <be able to change the password> to <increase account security>. At the development stage the application backlog and test scenarios are created based on user stories.
Check out the maturalni.com application project, which is used by over 100,000 users
See case study
What information will the designer need before starting the workshops?
The most important thing in collaborating with a designer is to ensure that they understand your vision, business goals, and the target audience of the application. Otherwise, they won't be able to design the product in the best possible way. Therefore, before conducting the workshops, the UX/UI specialist needs to know basic information about your application, such as:
Its name,
the platforms you're planning to use (e.g., web, mobile),
competition and alternative solutions,
target audience,
branding and visual guidelines,
key functionalities of the application.
Why do you need Product Discovery workshops when you know perfectly well how your app should work?
It's great that you have a clear vision of how your app should work. Thanks to it, the process of creating your product will be much smoother. Why do you still need a UX/UI designer's expertise? Imagine them as an architect. Just like an architect produces a blueprint to construct a new building with accordance to the rules, industry standards and best practices, in the same fashion, a UX/UI expert knows the user experience methodologies and principles typical for digital projects, along with the latest UX/UI trends. This expertise allows them to design solid foundations of an effective and user-friendly application.
At mobitouch, we've repeatedly seen that investing in creating thorough workshop documentation pays off both during the development phase and after the application is published. On the other hand, excessive cost-cutting, where the investor limits the scope of documentation to a minimum, can generate disproportionately larger financial and time costs later on.
User stories, information architecture and UX/UI mockups are a base for every team member involved in the project in the next stages of application development: project managers, developers, and testers. Good documentation means faster development, fewer misunderstandings, and consequently, fewer errors.
Thanks to product workshops, you can also avoid unnecessary costs that may arise from a lack of understanding of user needs, such as creating unclear or even unnecessary functionalities.
What does a UX/UI Designer do during the development stage?
Once the UX/UI design phase is complete, you can start the programming work. At this stage, the work of a UX/UI designer is less intensive and involves collaboration with the development team to ensure that the interface is being implemented according to the design specifications, is functional, and meets user expectations.
Depending on the needs of the project, the tasks of a UX/UI designer during the development stage may include:
Adapting the application to user expectations: based on testing and feedback, the UX/UI designer may adjust the design to better meet user needs. This could involve changes in layout, colors, navigation, or content presentation.
Consultations with the development team to solve any problems related to the implementation of the project
In the months following the application's release, there is often a need to enrich it with new functionalities. This means designing new screens and updating existing ones. During this time, and in subsequent iterations of application development, the UX/UI designer will continue to support your project with their expertise.
Summary
Creating a high-quality application for a wide audience is impossible without the expertise of a UX/UI designer. With a deep understanding of user needs and expectations, this specialist will design an interface that will enable convenient use of the application, facilitate navigation and provide positive experiences. All of this will be wrapped in visually appealing aesthetics.
However, UX/UI design is not just about looks or arranging elements on the screen. It's a process that involves market research, analyzing existing solutions, creating prototypes, and continually improving the project based on feedback and data. As a result, your product will attract and retain more users – which is its ultimate goal.
So don't cut corners while creating your app's most important element: its foundation. Our UX/UI team at mobitouch will help you prepare a reliable design for your application.