Do I really need a UX/UI designer to be part of my software development team? If you've been wondering about the role and importance of UX/UI design, keep on reading. You will know what UI/ UX design is in mobile app development process.
When you build a brand-new digital product, you need a team of experts that will take good care of the technical side of your project. But delivering the right functionalities doesn't guarantee the success of your product. It also needs to have an attractive look and a smooth user flow. Humans are visual creatures. Not paying enough attention to the user experience and look of your app can easily jeopardize its success on the market. Here's what brings UI/ UX design to the mobile app development process.
Why UX/UI design is so important? What is UI/UX design in mobile app development process?
In a typical mobile app development project, the main tasks of a UX/UI designer are creating:
user flows,
low- and high-fidelity wireframes,
the user interface of the application.
In general, UX designers tend to have slightly different skill sets from graphic and UI designers. They have a more technical approach to design. They carry out user research or interviews to understand what users want and how this translates into the user flows in the app.
How to start working with a UX/UI designer? Why is it so important to get UX design in mobile app development process?
The most important part of collaborating with a designer is ensuring that they understand your vision, business, and target audience. Otherwise, they can't create the best possible design for your product. They also need to know basic information about your product like:
Product name,
the platforms you're planning to use,
Initial launch dates,
Competition and alternative solutions,
User feedback if you have any,
Branding and visual guidelines,
Documentation,
Information about your unique value proposition.
To deliver outstanding design, designers also need UX documentation. It includes competitor analysis and all the information necessary to understand your requirements.
Here are the key elements that need to be part of your documentation for UX:
The problem you're trying to solve with the product,
Your target audience – start with a broad definition of your target audience. Continue sketching a more precise user persona based on reliable data.
Your solution – what's the solution you're building, and how will it deliver value to users?
Once the designer receives this documentation, they can get started. What happens next is creating user scenarios and building user flows based on the needs of your target audience.
If you don't have this documentation already, the best method is to carry out a product discovery workshop. It helps to gain a clearer picture of the product you're trying to develop and its target audience.
The value of market research in a designer's work
Building a mobile application without doing your homework first is a mistake. After setting your goal and defining the problem, target audience, and solution, your next step is market research.
Most of the time, you need to provide a document outlining the market to the designer, including:
competition analysis,
market analysis,
focus groups,
user interviews,
and usability patterns.
The purpose of UX design is to deliver the best possible experience to users and convince them that your solution is better than others. Thanks to a thorough UX analysis, you will gain a better understanding of your competition. But that's not the end of it. You'll also discover critical insights from your domain or industry, and explore the existing alternatives. It is irreplaceable to have UX design in mobile app development process.
User goals and product tasks
Once you gather enough information about your potential users and market data, you need to transform this into a solution outline. The UX design in mobile app development process is very important. The UX designer is the one to come up with user goals and product tasks that will power out your mobile development process.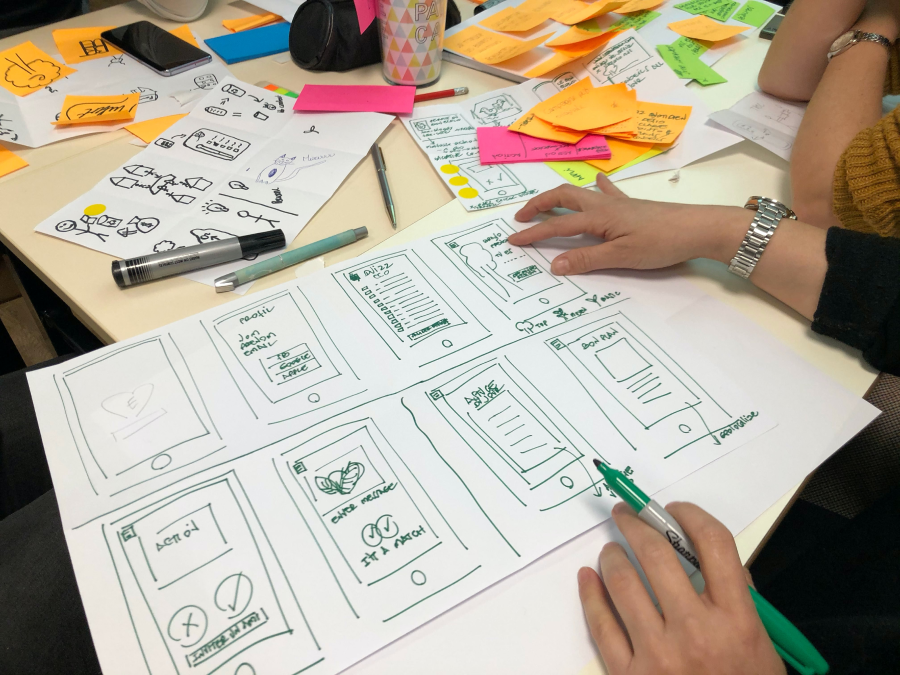 User goals
These are the primary goals that users have in mind when they sign up for your app. Designers need to know them because they help to achieve a deeper understanding of how your mobile application will affect the user. That's why UX design in the mobile app development process is so important and very helpful.
Product tasks
Divide product tasks into proactive and reactive.
Proactive:
posting a picture,
adding an article,
checking the progress in the dashboard overview.
Reactive:
receiving messages or notifications.
Once all your tasks are well-defined, the designer analyzes each task from the user's perspective. This helps to build a foundation for defining the user flows of your application. The designer will use all of this information to create wireframes for your Minimum Viable Product (MVP).
Next, the designer will come up with a UI design that captures this flow perfectly. When the design phase is over, you're ready to start the development work.
Are you looking for skilled UX/UI design experts to help you build an attractive digital product? Get in touch with us. We know how important is UX design in mobile app development process.
We offer a broad portfolio of digital product design and mobile app design services. Our UX/UI design experts carry out product discovery workshops and design applications that combine technical excellence with captivating interfaces.