Mobile commerce is currently disrupting one industry after another. M-commerce in travel and hospitality sector is no exception to this trend. The cost of developing mobile apps has dropped down, and businesses across many different industries are now investing in digital products like retail apps, business apps, and e-commerce apps.
Shopping with a smartphone has become a strong consumer trend that presents users with a new level of convenience. Many people believe that mobile commerce is the next generation of e-commerce.
As hospitality and travel businesses have embraced e-commerce, many of them are now investing in mobile apps. Read this article to find out the key advantages of m-commerce for businesses in the travel sector based on specific use cases and case studies.
1. Improving the customer experience
Hotels and luxury resorts are increasingly interested in the potential of mobile for improving the customer experience.
For example, Melia Hotels International allows its customers to control every aspect of their stay with their smartphones. Guests staying at the hotel can check all of the activities that are happening on-site and create their own schedules to make the most of their time. Moreover, they can also book tables and hotel restaurants, spa treatments, and make golf-related bookings.
Do you want to create a digital product? Our team is ready to help you to find the optimal solution that will meet your specifications and achieve your business goals.
Get in touch with us
The mobile app also provides updates about the hotel stay. Thanks to the mobile app, guests can get a complete experience of the resort even before they pack for the trip. They can find out about various activities, make restaurant reservations, or even participate in a meet-and-greet event with other guests.
Such m-commerce apps offer customers full control of the quality of their stay.
2. Delivering targeted promotions
Another excellent use case fulfilled by Malia Hotels International we mentioned before is taking advantage of mobile apps and their potential for marketing. The company uses the mobile app to send push notifications directly to app users. This type of one-on-one marketing is something the hospitality industry has been waiting for a long time.
Thanks to mobile apps, businesses can send personal communications with exclusive promotions or upgrade opportunities right to the guest's smartphone. App users can redeem coupons and vouchers with just a few clicks.
What's more, mobile apps come equipped with advanced analytics engines to allow hotels to understand which promotions are more popular with guests and improve their marketing communication.
3. Directing customers through the buyer journey
Companies across the travel and hospitality sector are investing in mobile commerce applications because they allow them to design and execute the buyer journey.
For example, major airlines like British Airways offer their customers dedicated applications they can use to log into their accounts, check their status in the loyalty program, and book flights. The British Airways app has a welcoming interface that allows discovering the cheapest fares easily.
Moreover, customers can track flight statuses and see timetables. As a result, the mobile app assists users in every single stage of the buyer journey – from the initial interests to the delivery of promotions and informing customers about everything they need to know before they get on board.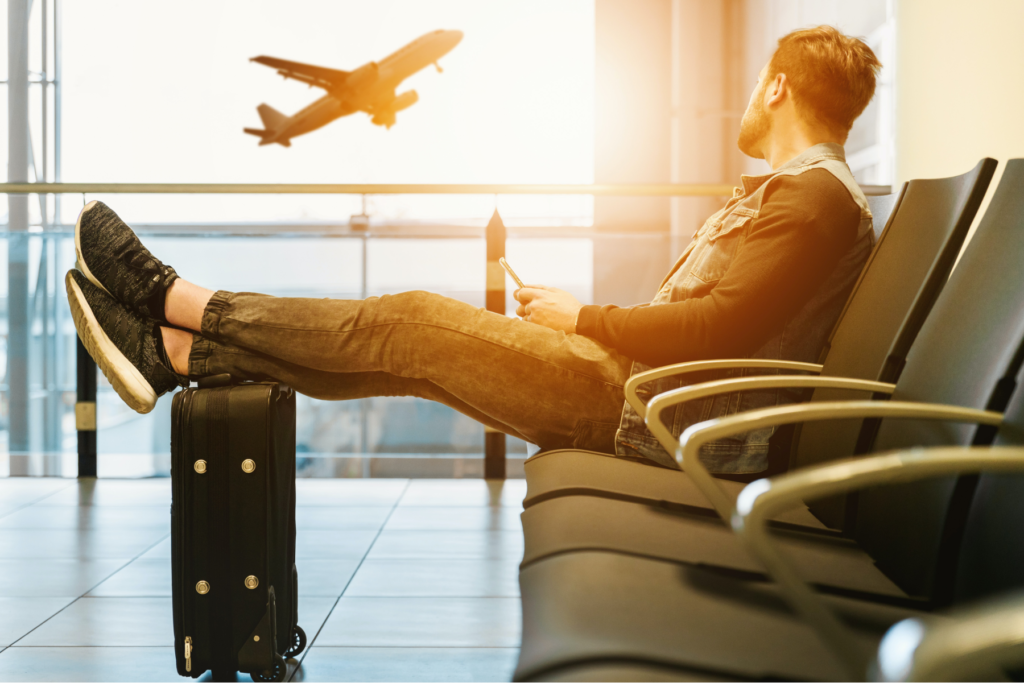 The travel industry covers a broad range of aspects such as accommodation, transportation, hospitality, tourist destinations, and many more. Augmented Reality technology holds the promise of enhancing all of these aspects. For example, it could help to deliver information to potential customers in interactive 360° visuals or attractive 3D views.
As a result, AR features in m-commerce apps can increase the demand for booking – potential guests will feel more confident about the property they're going to stay at. AR-based advertising and marketing can help to drive purchasing decisions because they allow visualizing properties and amenities in a far more interactive manner. One of the most important consequences of that is increasing the trust towards hotels and tour operators.
The value of m-commerce in travel industry
These examples show that mobile commerce holds great promise for the travel and hospitality sectors. Hotels, museums, resorts, transportation companies, and many others can benefit from implementing a mobile application that helps them to direct customers along the buyer journey and deliver a great customer experience.
Are you looking for a custom app development team experienced in the travel sector? Get in touch with us. We have recently delivered an m-commerce application to one of the largest travel deals providers in Poland, Itaka – check it out here and learn more about our work.