New technologies for industry
AR Solutions
Advanced CRM System Design for AR Tool
AR Solutions is an interactive platform that allows companies from the industrial sector to use the potential of the augmented reality technology.
UX Research
HTML/CSS (SCSS)
JavaScript (ECMAScript)
PHP
Responsive Web Design (RWD)
Custom theme
Custom templates
Multilanguage
CMS support
Mailing system
Our task was to design the UX and UI of an advanced web panel, containing four complementary modules; for the field worker, specialist, manager and administrator. The customer wanted the panel to be user-friendly and highly intuitive, and its usage effective. In addition, our goal was to design and develop an AR Solutions website that would provide the company with a high level of conversion from user visits.
Even before starting the UX design phase, our team was aware that with such a complex project, choosing the right approach would be crucial. We were aiming for one that would allow for a logical distribution of all actions across the individual system modules, and would also facilitate the organization of a large number of functionalities. For this reason, we decided to conduct tests and a series of interviews with users from customer-defined target groups. Based on the research results, we prepared low-fidelity mock-ups, and then meticulously discussed each element of the system with the team. The UX redesign was then tested again. Subsequently, we prepared a dedicated design system. The result of our actions is a modern, intuitive and interesting design of the web panel, which allows users to easily utilize all the system's functions. In addition, we prepared a fully responsive and easy-to-navigate website that presents the most important advantages of the company in an interesting way and emphasizes its technological nature.
Client's opinion
Watching their work proved that they have a piece of the vast knowledge of UX design.
Other projects
Our implementations of tailor-made software.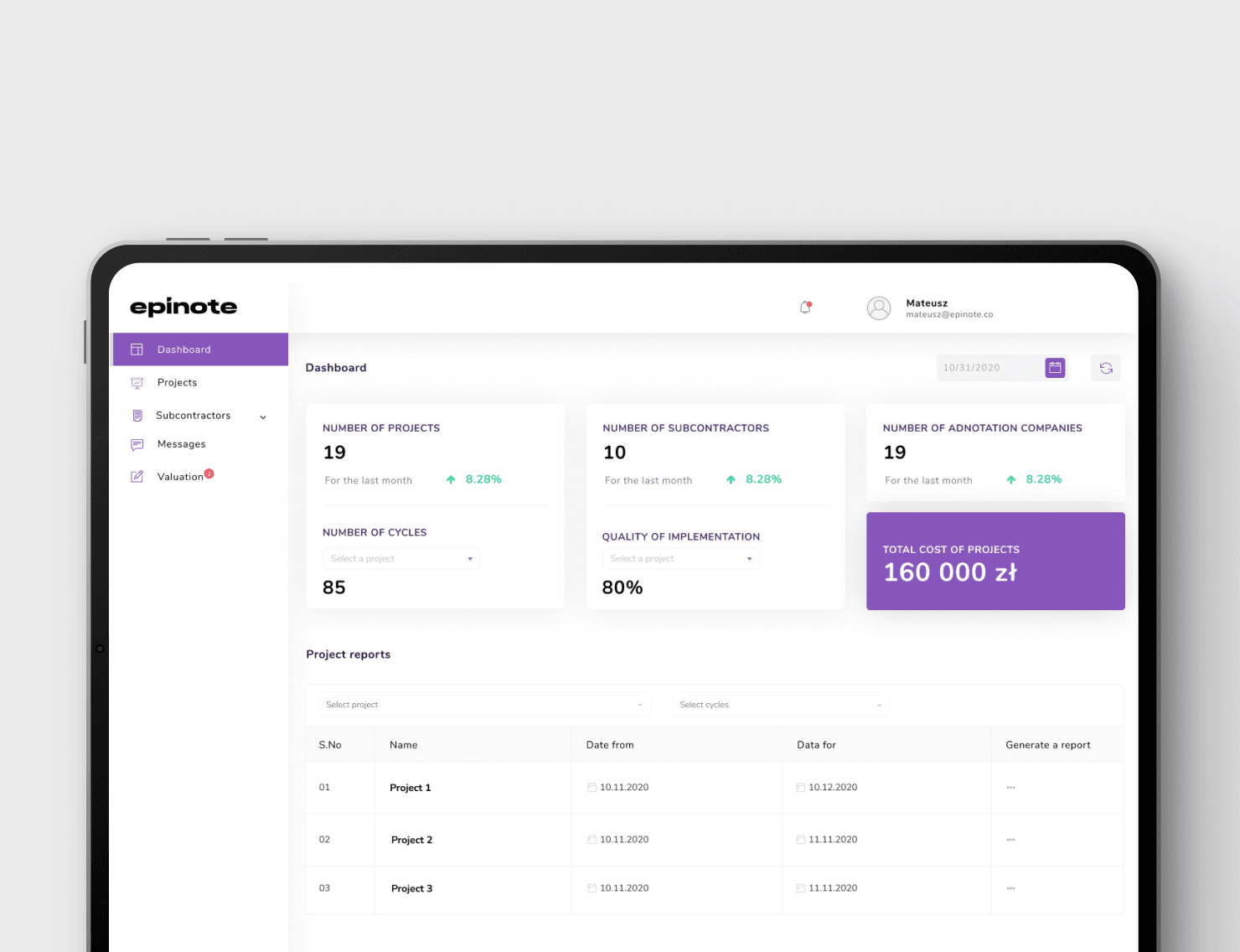 Epinote
A modern and highly intuitive user interface for an advanced data annotation tool.
Itaka Hotele
A web application created for one of the most popular travel agencies in Poland.
Want to create a similar app?
Our team is ready to help you to find the optimal solution that will meet your specifications and achieve your business goals.