Today's technological transformations require entrepreneurs to think about digital product design development. Often, mobile app design services are the solution for addressing this issue. Every successful product is based on a great idea. Every brilliant concept needs to fulfill the customer's needs and have monetizing potential. Engineers create digital products to fix potential users' problems. Most companies are striving to satisfy their customer's needs in the long run. The recipe for that is to have a clear vision and do not deviate from the set course. This is the foundation of solid tailor-made software.
In this article, you will find 6 things you need to know when designing a digital product. Read on the find out how to achieve satisfying results. How to digital product design development?
1. Austerity and elasticity
The essence of every great idea is its austerity. It is similar to telling a joke. If you need to explain, it means it is bad. Digital product design development is based on the potential group of customers. This can give momentum to the product, and it can become a viral phenomenon. The user determines the success of the product and provides feedback to his friends, etc. The user needs to understand what problem the digital product is tackling. In other words, the client needs to find the tailor-made software useful. If the purpose of the digital product is too vague, customers may discard it at the very beginning.
Difficulty accompanied by digital product design development is mixing the problem with the solution. An example of that is often found within start-ups. Usually, founders of new firms have a clear plan. They also know what problem they want to solve. This brings them to a reliable partner – a software house. At this stage, there are plenty of tools to utilize the entrepreneur's vision. So having a solid plan is good. But elasticity is always needed in the tailor-made software design process. Having an open mind helps with finding the right way to move your business forward.
2. People and contact network
The community surrounding digital products is a key to its success. What you have to do is to define them. Next is finding their needs and the paths to connect with them. The idea behind digital product design development should be a vision of tomorrow. And in it, the main part is written for the clients. Therefore, the core of every digital product is its community. Users need to implement tailor-made software in their everyday lives. That is why identifying their needs is crucial.
Many people and organizations fill the business environment of the company. They create many projects thanks to their contact network and often find the best solutions in the most unlikely places. People and organizations may be interested in investing in a great idea. Business contacts are invaluable for your project. So remember about them, not only about investors. Contact network and your business partners can give any digital product more range.
3. Market research
No market demand is the main reason for start-up failure. Thorough market research enables us to make successful tailor-made software. The most important aspect is the needs within the sector you are targeting. Business environment analysis provides the inspection of potential customer interests. Additionally, you will identify your competition. This will lower the market entry difficulties concerning your digital product.
Researching the competition of the digital product you are creating can give you much-needed knowledge and inspiration. This will increase tailor-made software effectiveness. The digital product market is constantly evolving and shifting. Yesterday's fresh idea is today's standard. That is why you need to look for the right niche to place your digital product. Within it, you will find specific clients and satisfy their needs.
4. Reasonable budgeting and reliable software house
More than 30% of start-ups fail because of insufficient financing. Unfortunately, passion and a ground-breaking idea are not enough. What you also need is a business plan and smart business choices. Budget control is based on various tools and planning software. In most cases, this will be a problem for your investors. That is why you need a reliable partner during digital product design.
A software house with experience will help you with turning your idea into a solid digital product. Working with a business partner should engage the resources of your firm to their fullest potential. Furthermore, it should optimize the costs and fulfill the customer's needs. When looking for a software house to partner up with, the ideal candidate will have experience in various types of digital product design development. Additionally, you will draw from their experience and acquire valuable consultants.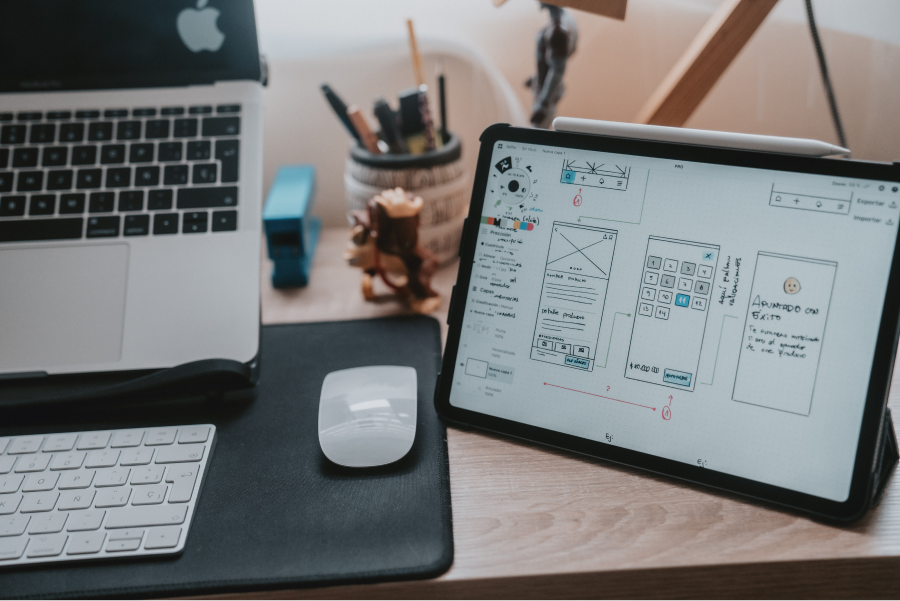 5. Minimizing the time needed for digital product design development
Digital product design development needs speed, not perfection. Technology is evolving rapidly, so new ideas are redundant fairly quickly. Also, you need to verify your product on the market as soon as possible. This will lower the production costs. Two main ways to quickly release the digital product are MVP (Minimum Viable Product) and MLP (Minimum Lovable Product).
MVP is a version of a product that can be released fast for customers. That kind of product satisfies the customer's needs and has basic functions. Designers create a Minimum Viable Product to check business ideas in a real market situation, so as to determine whether the product is worth further development or needs to be abandoned. MLP (Minimum Lovable Product) is an expanded MVP. It has additional functionalities that make the product more enjoyable for users. MLP should make a potential customer fall in love with it. That is why the UX and the UI design are crucial in this part. It will speak to the aesthetics of users to get their attention.
6. What about innovation?
Investors love the phrases like 'innovation' and 'first on the market'. Nevertheless, many technological giants did not start as pioneers in their respective fields. Furthermore, many companies fail when they are the first on the market. Looking at their failures can teach you what to do and what not to do. Innovation and new technologies are important, but they can quickly become outdated. And this will contribute to your digital product failure. Effective tailor-made software is desired by the customers and should be user-friendly and easy to understand.
Digital product design development is not an easy task. In the begging, you need your wonderful and ground-breaking idea. Then you have to verify it and be disciplined about the process. Never underestimate the needs of your target group. They are the sole basis for your success. And now, the crucial part regarding a good business partner. The software house you choose has to be experienced in digital product design. They can materialize your idea into very successful tailor-made software. Keep our advice in mind, and your business will create a solid digital product.
Looking for a consult about your digital product design development? Do not hesitate to contact us! We are experienced in creating tailor-made software and mobile app design services. We helped and advised in a digital product design process for various entrepreneurs and start-up founders, and also we know the right course of action for you.